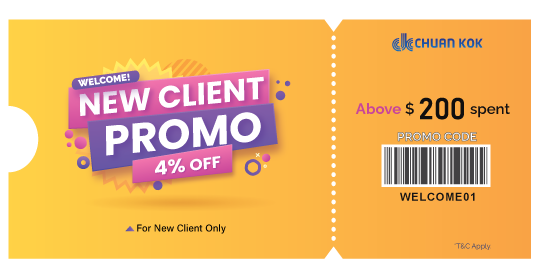 Promo code: WELCOME01
***Enter the promo code above in the purchase order to enjoy the discounts.
📌 Applicable to new client only.
📌 Minimum order of $200 is required.
📌 Subject to existing stock.
📌 Validation & redemption will be rejected when a false promo code is entered.
📌 Chuan Kok Hardware reserves the right to vary any terms & conditions.
📌 This offer does not apply to other promotions.
📌 Not more than one promo code is allowed in the purchase order.
📌 Chuan Kok Hardware will refuse to validate & redeem any claim if one does not comply with these terms & conditions.
JOIN MYREWARDS MEMBER
With MyRewards Loyalty Program, you will experience "Earn as you Buy".
Check out the MyRewards benefits as an exclusive member:
EXCLUSIVE MEMBER (FREE) SIGN UP
The validity period of an exclusive member's star points is 3-months.
An exclusive member can only use the star points within the period of 3 months. ​
*Note: Once star points have expired, exclusive member will not be able to use it.